Biophilia Recordings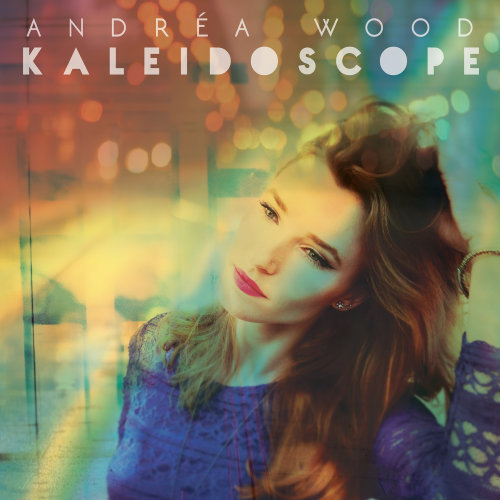 Andréa Wood
Kaleidoscope
🇪🇸 Si prefiere leer este contenido en español, por favor desplácese hacia abajo. Gracias.

---

Andréa's originals on Kaleidoscope are characterized by a groovy undercurrent, often building gradually from an introductory motif, as in the opener "Intuition." Alongside her lithe voice, the reed work of guest tenorist Donny McCaslin comes across as angular yet buoyant, setting up gorgeous backing vocals that lift her even higher. Andréa then turns the emotional tables for the heartbreaking "Arabesque of Love & Loss," a song inspired by her great uncle, who died shortly after she recorded it, just shy of his 102nd birthday. His story solidifies a running theme, balancing tragedy and the simple beauty of day-to-day living. This song segues into the first of the album's two interludes, both the fruits of her collaboration with brother Nick Wood, and which weave samples of Andréa's singing into a hip-hop mix. Where the first diffuses the emotional power we have just experienced, the second is a more ambient and subterranean affair, and follows Andréa's nocturnal take on "Nature Boy." Made famous by Nat King Cole, this standard is given a younger sheen. Other takes on the tried and true include a nostalgic rendition of Bob Marley's "Three Little Birds," an urgent and heartfelt "You and I" (Stevie Wonder), and, in a stroke of genius, a daring recalibration of Carly Rae Jepsen's pop candy "Call Me Maybe."

But the album finishes as it began, with Andréa's originals taking center stage. Whether leaping through the Brazilian groove of "Take a Chance" or taking pleasure in "The Little Things," she checks off every item of her genuinely eclectic interests, all leading up to the album's bonus track, "DooWop." With her brother on the mic and a Groove Theory-esque backbone to boot, the song takes jazz into the future even as it waters the roots. This leaves the title track, "Kaleidoscope (Fall in Place)," which is Andréa's crowning achievement in self-expression. With sultry energy, she puts her all into this love-affirming gem. It also showcases the talents of her attuned band, all of them classmates from the Manhattan School of Music. Keyboardist Angelo Di Loreto (New York), guitarist Olli Hirvonen (Finland), bassist Ethan O'Reilly (New Jersey), and drummer Philippe Lemm (Netherlands) converse through their instruments as friends do: openly and with plenty of judgment to spare. All of this comes together under the guiding hand of Andrew Sheron, who mixed the record and buffed it to a shine."

---
🇪🇸
Las canciones originales de Andréa en Kaleidoscope se caracterizan por una corriente groovy, a menudo construyendo gradualmente a partir de un motivo introductorio, como en el abridor "Intuition". Junto a su voz, el trabajo del tenor invitado Donny McCaslin aparece como angular pero boyante, inventando maravillosos coros que la elevan aún más. Andréa vuelve las emotivas tornas con "Arabesque of Love & Loss", una canción inspirada por su tíabuelo, que murió poco después de haberla grabado, justo antes de su 102o cumpleaños. Su historia solidifica un tema corriente, balanceando la tragedia y la belleza simple de la vida cotidiana. Esta canción sigue con el primer de los dos interludios del álbum, los dos frutos de una colaboración con su hermano Nick Wood, y que tejen muestras de Andréa cantando en una mezcla de hip-hop. Cuando el primero difunde el poder emocional que acabamos de experimentar, el segundo es un asunto más ambiental y subterráneo, y sigue la toma nocturna de Andréa en "Nature Boy". Hecho famoso por Nat King Cole, este estándar recibe un brillo más joven. Otras tomas de lo probado y verdadero incluyen una interpretación nostálgica de Bob Marley "Three Little Birds", un urgente y sincero "You and I" (Stevie Wonder), y, en un golpe de genio, una audaz recalibración de "Call Me Maybe", la canción pop de Carly Rae Jepsen.

Pero el álbum termina como empezó, con los originales de Andréa tomando el centro del escenario. Ya sea saltando a través del groove brasileño de "Take a Chance" o disfrutando con "The Little Things", ella comprueba cada uno de sus intereses genuinamente eclécticos, todo lo que lleva a la pista extra del álbum, "DooWop". Con su hermano en el micrófono y una espina dorsal Groove Theory-esque para arrancar, la canción propulsa el jazz en el futuro, incluso mientras riega sus raíces. Esto deja la pista del título, "Kaleidoscope (Fall in Place)", que es el logro coronando Andréa en su expresión. Con energía sensual, ella pone todo en esta joya que afirma el amor propio. También muestra los talentos de su banda atentiva, todos ellos compañeros de clase de la Manhattan School of Music. El tecladista Angelo Di Loreto (Nueva York), el guitarrista Olli Hirvonen (Finlandia), el bajista Ethan O'Reilly (Nueva Jersey) y el baterista Philippe Lemm (Holanda) conversan a través de sus instrumentos como sólo amigos lo hacen: abiertamente y con mucho juicio de sobra. Todo esto se reúne bajo la dirección de Andrew Sheron, que mezcló el récord y lo "pulió a un brillo".
---