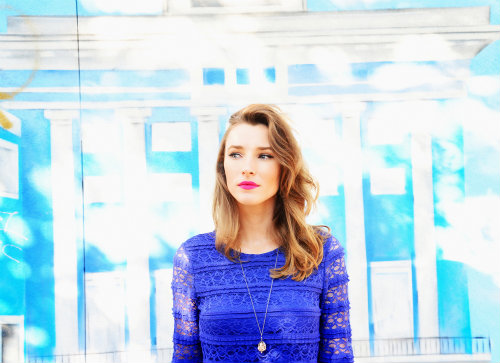 Andréa Wood
Vocalist
Andréa Wood is living proof that music was meant to evolve. As a vocalist, she has been praised by JazzTimes Magazine for her "astonishing vocal range effective in conveying the emotions of a song." As a composer and arranger, she mines even deeper ore with a signature sound that is simultaneously accessible and interesting. On all fronts, she draws on jazz, soul, and Brazilian influences, balancing innovative songwriting with respect for the standards through which she learned her craft.

Andréa and her band perform regularly in and around New York City. They have played at some of the country's premier venues, including The Kitano, The Iridium, and the historic Town Hall in NYC; the Kennedy Center, Smithsonian, and Constitution Hall in D.C.; and as far as Mumbai, India. She released her debut album, Dhyana, in 2011 to rave reviews and international acclaim, and has been featured in festivals across the U.S., including the Detroit Jazz Fest, the Clifford Brown and Rehoboth Jazz Fests in Delaware, and the Intersections American Arts Festival in her hometown of Washington D.C.

In 2013, she and her band spent four months in Mumbai, India serving as inaugural faculty at the True School of Music. While there, she toured the country alongside the Renee Rosnes Quartet as part of the Jus' Jazz Festival, culminating in a performance at Mumbai's National Centre for the Performing Arts.

In addition to her working ensemble, Andréa sings for a French gypsy jazz band, a neo-rock band, a Pink Floyd cover band, and a Nigerian afrobeat band led by former Femi Kuti drummer Tosin Aribisala. She has been a featured guest on several projects, including a recording with Bizzy Bone of Bone Thugs-n-Harmony.

Hip-hop has been a longtime interest and makes its way into the mix of her sophomore effort, Kaleidoscope, released on Biophilia Records in the summer of 2015. It's her most personal statement yet, mixing a wide-ranging palette of emotions into a veritable spectrum of strength and sadness. Not only does it represent a giant leap forward for this singular artist; it also puts theory into practice through her reinterpretations of beloved classics, and more than ever shows the evolution and strength of her songwriting gifts.

Andréa is also a passionate educator. Since completing her Master of Music at the Manhattan School of Music is 2013, she continues to work toward her Master's degree in Music Education at Columbia University's Teachers College.

She is a teaching artist for Jazz at Lincoln Center and The New York Pops.

---
[español]
Vocalista

Andréa Wood es una prueba viviente de que la música debía evolucionar. Como vocalista, ha sido elogiada por la revista JazzTimes por su "asombrosa gama vocal eficaz para transmitir las emociones de una canción". Como compositora y arreglista, explota medios aún más profundos con un sonido característico que es al mismo tiempo accesible e interesante. En todos los frentes, se basa en el jazz, el soul y las influencias brasileñas, equilibrando composiciones innovadoras con respeto de los estándares a través de los cuales aprendió su arte.

Andréa y su banda se presentan regularmente en Nueva York y sus alrededores. Han tocado en algunas de las principales salas de conciertos del país, incluyendo The Kitano, The Iridium, y el histórico Town Hall en Nueva York; El Kennedy Center, el Smithsonian y Constitution Hall en D.C.; y tan lejos como en Mumbai, India. Ella lanzó su primer álbum, Dhyana, en 2011 y recibió críticas internacionales entusiasmadas, y ha actuado en festivales a través de los EEUU, incluyendo el Detroit Jazz Fest, el Clifford Brown y Rehoboth Jazz Fests en Delaware y el Intersections American Arts Festival en su ciudad natal de Washington DC.

En 2013, ella y su banda pasaron cuatro meses en Mumbai, India, sirviendo como facultad inaugural en la True Music School. Mientras estuvo allí, recorrió el país junto al Renee Rosnes Quartet como parte del Jus 'Jazz Festival, culminando en una actuación en el Centro Nacional de Artes Escénicas de Mumbai.

Además de su ensamble, Andréa canta para una banda de jazz gitano francesa, una banda de neo-rock, una banda de covers de Pink Floyd y una banda afrobeat nigeriana liderada por el ex baterista de Femi Kuti, Tosin Aribisala. Ha sido invitada especial en varios proyectos, incluyendo una grabación con Bizzy Bone de Bone Thugs-n-Harmony.

Hip-hop ha sido un interés de largo plazo y se abre camino en la mezcla de su segundo esfuerzo, Kaleidoscope, lanzado en Biophilia Records en el verano de 2015. Es su declaración más personal aún, la mezcla de una amplia gama de emociones en una verdadera gama de fuerza y ​​tristeza. No sólo representa un salto gigantesco hacia adelante para esta artista singular; también pone la teoría en práctica a través de sus reinterpretaciones de clásicos amados, y muestra más que nunca la evolución y la fuerza de sus regalos de composición.

Andréa es también una educadora apasionada. Desde que completó su Maestría de Música en la Manhattan School of Music en el 2013, ella continúa trabajando hacia su Maestría en Educación Musical en el Columbia University's Teachers College.

También es artista/docente para Jazz at Lincoln Center y The New York Pops.
---
Recordings

2015.07.14
---
More Biophilia Artists
---