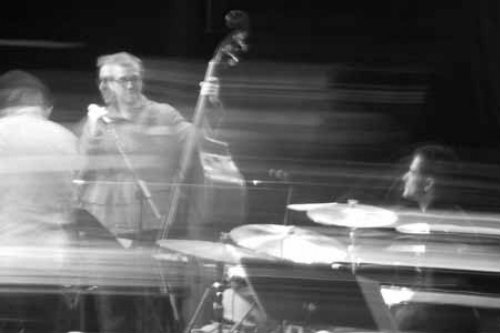 Bryan and the Aardvarks
Bryan Copeland, Jesse Lewis, Chris Dingman, Joe Nero & Fabian Almazan
Bryan Copeland formed Bryan and the Aardvarks in order to explore an inventive new sound that derived from his jazz training as well as his upbringing in pop and country music. The music he writes for the quartet combines a hushed intimacy with memorable, singable melodies and a narrative directness that nevertheless leaves space for expressive improvisation. In pianist Fabian Almazan, vibraphonist Chris Dingman, and drummer Joe Nero, he has assembled a distinctive ensemble able to flesh out his unique compositions.

"These guys are all very sensitive musicians," Copeland says. "Their main focus is making music sound beautiful. There's no ego involved. These guys are all amazing technical masters, but they put all that stuff aside to develop this group sound."

Raised in the North Texas panhandle and later in the more urban centers of Dallas and Austin, Copeland grew up surrounded by country music – which he rejected as a child but later came to appreciate. Instead, his tastes turned more to pop, rock, and singer-songwriter music, especially the likes of The Kinks, David Bowie, Elliott Smith, and Nick Drake. The latter two, who combine an incisive expressiveness with an air of mystery, seem especially relevant influences on Bryan
and the Aardvarks.

Copeland hit on the sound of Bryan and the Aardvarks organically, while coping with the death of a close friend from Texas. He sat down at the piano one day and the shimmering melody of "Sunshine Through the Clouds" flowed out of him. "I was having a hard time dealing with the feelings I was having," Copeland recalls, "and I wasn't really thinking about what I was playing. Something deep in my subconscious just came out, and that's still the approach I take with this band. I just close my eyes and let my subconscious write the music."

---
[español]
Bryan Copeland formó Bryan and the Aardvarks con el fin de explorar un sonido nuevo e inventivo que derivó de su formación de jazz, así como su educación en el pop y la música country. La música que escribe para el cuarteto combina una intimidad silenciosa con melodías memorables y cantables y una franqueza narrativa que deja espacio para la improvisación expresiva. En el pianista Fabian Almazan, el vibrafonista Chris Dingman, y el baterista Joe Nero, ha reunido un conjunto distintivo capaz de dar cuerpo a sus composiciones únicas.

"Estos chicos son músicos muy sensibles", dice Copeland. "Su objetivo principal es hacer que la música suene hermosa. No hay ego involucrado. Son todos maestros técnicos increíbles, pero pusieron todo eso de lado para desarrollar este sonido de grupo".

Copeland creció en el norte de Texas rodeado de música country, que rechazó cuando era niño, pero que después llegó a apreciar. Sus gustos se volvieron más a la música pop, rock y de cantautores, especialmente a artistas como The Kinks, David Bowie, Elliott Smith y Nick Drake. Los dos últimos, que combinan una expresividad incisiva con un aire de misterio, parecen influencias especialmente relevantes en Bryan
Y los Aardvarks.

Copeland llegó orgánicamente al sonido de Bryan and the Aardvarks, mientras se enfrentaba a la muerte de un amigo cercano de Texas. Se sentó en el piano un día y la melodía brillante de "Sunshine Through the Clouds" fluyó fuera de él. "Me estaba costando mucho lidiar con los sentimientos que tenía", recuerda Copeland, "y realmente no estaba pensando en lo que estaba tocando. Algo profundo en mi subconsciente acababa de salir, y eso es todavía el enfoque que tomo con esta banda. Sólo cierro los ojos y dejo que mi subconsciente escriba la música ".
---
---
More Biophilia Artists
---