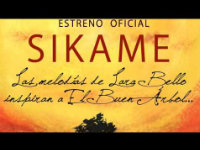 beautiful sneak peak into "Sikame, el alma de oro" Lara Bello y El Buen Arbol
Personnel: Lara Bello, voice, percussion/ Lionel Loueke, guitar, voice/ Romero Lubambo, guitar/ Gil Goldstein- accordion, percussion/ Rajiv Jayaweera, percussion/ Samuel Torres, percussion.

Original composition by Lionel Loueke with new lyrics by Lara Bello.
This is the title track of the Album, Sikame means "Inside The Gold" in Fon language.

Corto animado "SIKAME, El alma de oro" de El Buen Árbol animation studio para la cantante y compositora Lara Bello. Adelanto de su nuevo álbum "SIKAME" que presentará en 2017.